Eco-Friendly Carpet Cleaners
06/04/2015
Back To Blog
How do eco-friendly products smell? The fragrance of these rug cleaners are quite similar to natural fragrances, as it is prepared from essential oils extracted from plants. Cleaners for odor removal and stain removal do not use artificial scents. Eco-friendly products are safe, reliable and non-toxic. For instance, cleaners containing chemicals have ingredients such as ammonia and chlorine, thus these cleaners do not qualify as an eco-friendly product. Green cleaners contain ingredients of vinegar, baking soda and other essential natural oils.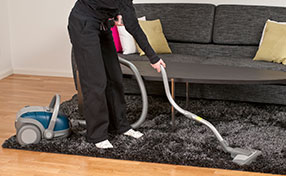 Actually, eco-friendly carpet cleaners are biodegradable and the ingredients are renewable and sustainable. Therefore, ignore cleaners that contain phosphates, optical brighteners, chlorine, mineral oils etc. Switch over to eco-friendly cleaners to avoid ecological imbalances.
Smart packaging
Technical experts use eco-friendly upholstery cleaners that are available in green packaging. It includes renewable, biodegradable and recyclable materials for packaging. The package does not exhibit any superfluous technique. Moreover, the package is labeled using non-bleached and non-toxic inks. It sports a recycling logo to authenticate the eco-friendly nature. Many professionals use green carpet cleaners in bulk quantities to reduce wastage.
Professional carpet cleaning systems implement several formulas using eco-friendly and natural ingredients. Some of these products have been mentioned below.
* Baking soda acts as a good carpet cleaner and a deodorizer.
* They use unscented biodegradable soaps available in the form of a liquid, powder, bar or flakes.
* Lemon has strong acidic properties, thus professionals consider it a good cleaner for mold removal.
* White vinegar is an effective ingredient to cut grease. It removes odors, mildew, wax and stains.
* Experts use washing soda to remove stains and grease from your carpet. They use it carefully as can harm the mucous membranes.
* Technical experts use carpet cleaners containing isopropyl alcohol, as it is a good disinfectant.
* Professionals use cornstarch to prepare shampoos to clean rugs and carpets.
Professionals usually recommend the following recipe to remove pet stains:
Prepare a carpet cleaning solution by mixing equal portions of water and vinegar. Apply the solution on the affected area and allow the carpet to dry. Apply baking soda on the dried carpet and scrub the stain. Mix half a teaspoon of liquid soap with 1/4th cup of peroxide; pour this mixture on baking soda. Once the mixture dissolves deep into carpet fibers, wipe it with a cloth. Vacuum the residue, once the carpet dries up.
In any case, it's always recommended to consult a professional before attempting anything on your own. Contact us at Carpet Cleaning Campbell for more information.